Full Interview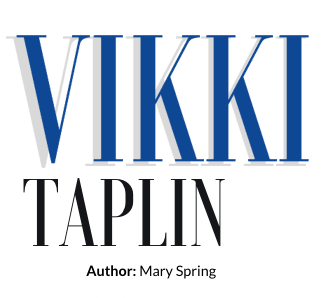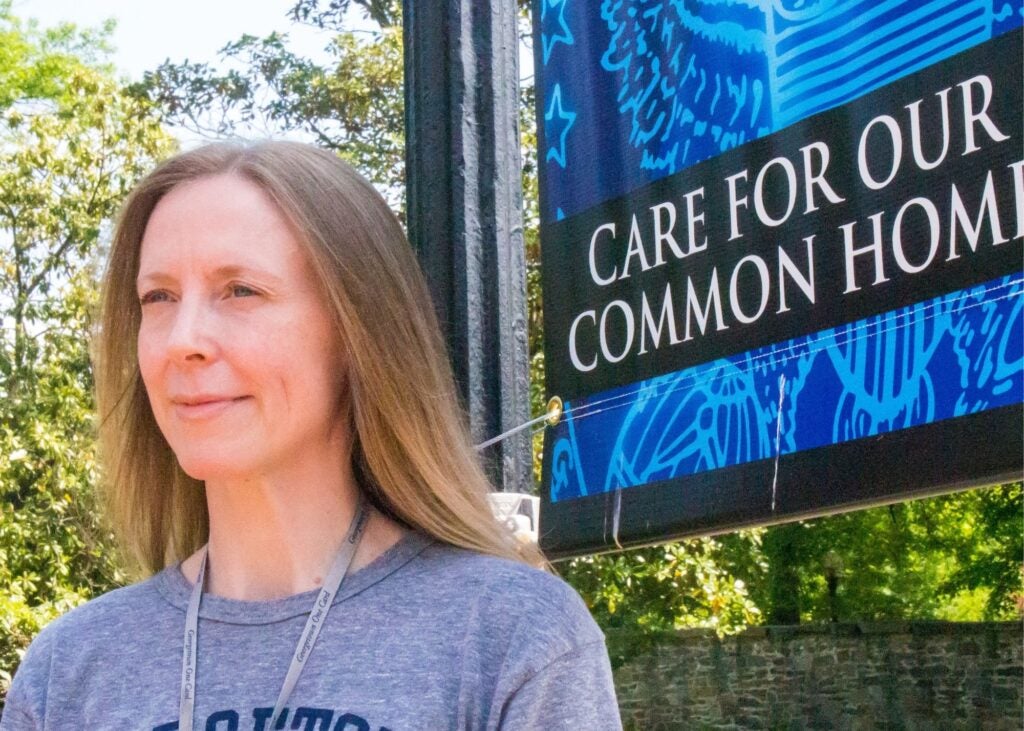 April 23, 2021
On a bright afternoon with a cool spring breeze, Vikki Taplin provides a "Welcome to Georgetown" to people arriving at Georgetown's Main Campus through the arch anchored by the North and South Gatehouses. Her mask prevents the experience of her warm smile, but it's fully in evidence in the lilt of her British accent and her gesture to conversation. Wearing university ID and masked appropriately, she succinctly and clearly explains the check-in process for access to buildings, gesturing to the check-in portal for ID clearance. Whether you are visiting campus for the very first time (or for the first time during the pandemic) or returning frequently to your office, worksite, classroom, or contract work, you'll quickly and quickly get the help you need from Vikki.
As happy as she is to be a "greeter," this is not the work that Vikki expected and accepted when she began her Georgetown career 8 years ago, nor the duties she was tending when Georgetown "went telework" in March of 2020. And these are not the workday interactions that she sorely missed through last summer and into the fall, and feared might disappear in an eventual new order of needs. But she is performing duties essential to Georgetown's mission, to the continuity of education and to the health of the Georgetown community – and she is thrilled to help Georgetown return to regular life.
Vikki emigrated from England to the United States twenty years ago. After providing live-in child care as a Special Needs Teacher for twelve years, she began to look for other avenues to expand her experience in early education. It is Georgetown's luck that her interview with Jane Banister, Hoya Kids Director, resulted in her employment as a Hoya Kids Teacher. Vikki treasures her Hoya Kids work and family, delighting especially her time with "The Buttercups," children 2.5 to 3.5 years of age. She can't imagine other work that would inspire and fulfill her as much as early childhood development.
But when Georgetown implemented a largely telework environment fourteen months ago, Hoya Kids necessarily curtailed it's in person classes, and the teachers gradually transitioned to providing a virtual "Hoya Kids Home Days" program for the children and their parents. While most teleworking staff members could carve some home space into workspace and complete their regular or adjusted tasks, this was not the case for pre-kindergarten teachers. Zoom cannot play blindman's bluff, circling children on a floor mat for a time to share, igniting their sparks in a moment of uncertainty, or instantly celebrating their milestones of discovery and achievement. Certainly, there was professional development, curriculum development, virtual Parent Teacher Conferences, and other non-class matters to accomplish as the Hoya teachers continued virtually but none that included the inspiration and experience of shaping young minds in person.
As telework moved through the summer, Vikki's home life was well balanced, and she often talked with family and friends – and she found the all-staff Zoom meetings provided a good measure of the connection she typically finds in her work. She strived to create a healthy balance with virtual teaching, staying connected with friends and family, and, very importantly, she continued the pursuit of her Degree.
As the fall semester began without reopening, she wondered what would happen to pre-K learning in general, and she worried about what would happen to the Hoya Kids Center. She feared losing a job she loves and presumed finding another pre-K job would be close to impossible and, like so many others in her field, consumed with worry and uncertainty.
When Georgetown announced its Redeploy Program last summer, with opportunities to perform pandemic-necessary jobs, Vikki's spirits sprang to life. Fully prepared to do what needed doing, and with the agreement of her supervisor, she began Redeploy work in July 2020 as a Care Navigator, providing public health guidance and information and helping patients receive personalized services that support their care. In October, she requested an opportunity to work on campus among other Redeployed staff and was reassigned to supervising Building Access as a Public Health Screener at White-Gravenor. In January 2021, she began assisting with Campus Access as Vendor Check-In at the Healy Gatehouse. This was in addition to performing all her virtual responsibilities to the Hoya Kids Learning Center. In each of the assignments, Vikki discovered new skills for her work life and a new appreciation for the variety and breadth of the university's mission.
Vikki says the opportunity to serve – to be of help to a community she treasures – rescued and restored her spirits and gave her hope for what's ahead. She appreciates the opportunity to welcome people to campus for their first time and to greet them on return, to provide answers and assistance, to relieve anxieties, and to help them get them safely to their destination. It does not bring quite the same joy she finds during her days with The Buttercups, but it has many of the same ingredients.
She is grateful to be doing something so necessary for mission success, to spend the day outside in a safe environment, to park her car at no cost, and to enjoy a daily "on the house" carry-out of her own choice from Leo's [Leo Donovan Hall]. She has made many new campus friends in her Redeploy assignment – people she simply would not have the occasion to meet, and with whom she now shares conversations of hope in a time of uncertainty. She knows "all the regulars" by their first name – and everyone seems to know "Vikki at the Gatehouse."
She looks forward to the reopening of Hoya Kids in early summer and to all of the preparation for that joyous return. She will bring to the classroom the distinct experience of unexpected joy, the discovery of new personal skills, and a larger view of the university's mission and community.