Reminders for FY23 Annual Performance Evaluations: All self-evaluations, manager evaluations and manager's manager approvals should now be completed and submitted in GMS.
Upcoming Deadlines: Managers are expected to meet with each of their direct reports to discuss their annual performance evaluation by Thursday, June 1. Be sure to send the completed evaluation to your employee in advance of this meeting.
"Building a Healthy Feedback Culture" Training for Georgetown leaders available now!
Access the the full list of available dates and locations on our Eventbrite page.
Performance Management is the continuous process of identifying, measuring, and developing employee skills and performance. This process extends across the lifetime of your time as an employee at Georgetown University. Integral aspects of the performance management process include an initial probationary evaluation, goal setting and the annual performance review.
The Department of Human Resources is committed to designing Performance Management processes that foster an environment in which managers and employees can regularly communicate about departmental and individual goals and accomplishments in service of creating a culture of engagement, accountability, and excellence.
Annual Performance Reviews
The Annual Performance Review process creates an opportunity for managers and employees to discuss departmental and individual goals, recognize challenges accomplishments from the prior year and to plan for professional development in the year ahead. This is also an opportune time to reflect on how new ways of working and communicating may shape and inform shared goals and how to achieve them.
Select any of the topics below for related information and instructions:
Annual Performance
Evaluation Workflow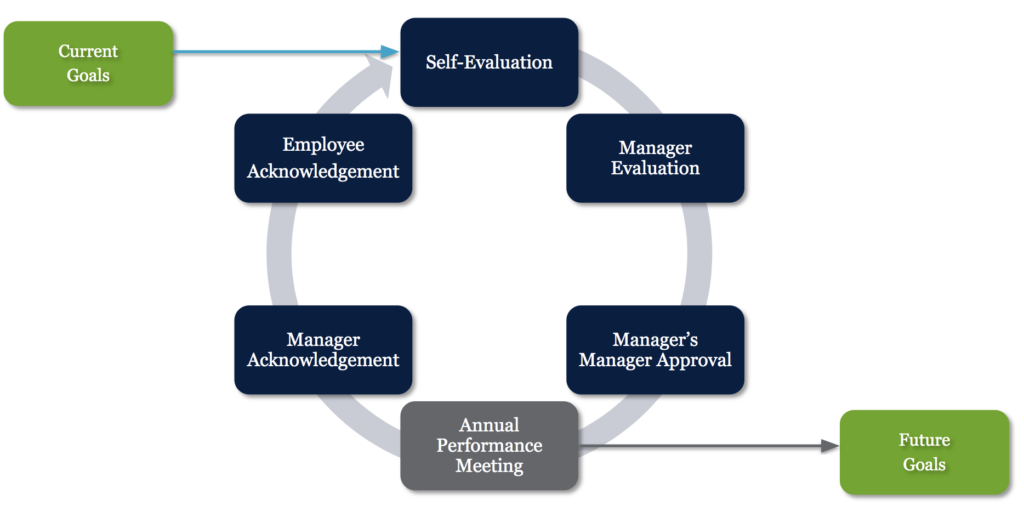 Annual Performance Review in GMS
Best Practice Timeline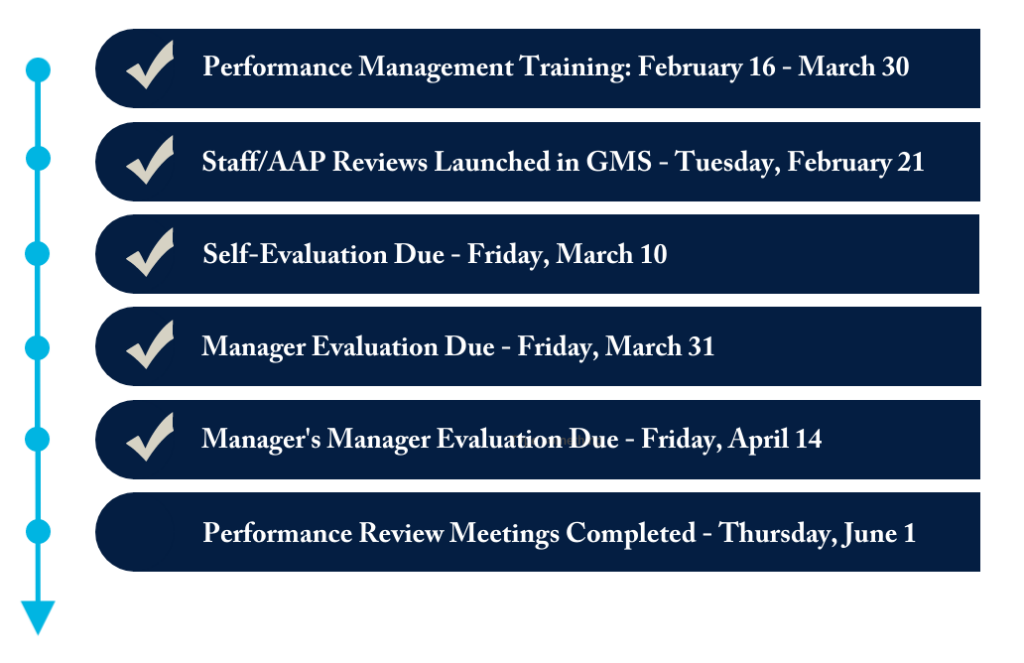 ---
Mid-Year Check-Ins
The Mid-Year Check-In is a simplified template that enables managers and employees to create, review and update their individual goals, as well as make an overall assessment of employee performance during the period the first half of the annual performance review period: March 1 through August 31.

Mid-Year Check-Ins are not mandatory. Managers may initiate them at their discretion for their direct reports. Managers who choose not to conduct a Mid-Year Check-In in GMS are still encouraged to remind their employees to create, review and/or update their goals developed at the end of the prior annual performance cycle.
Office of Advancement
Mid-Year reviews are currently active only for the Office of Advancement given its modified review cycle. Members of that department can find training materials for their 2023 Mid-Year Check-In in Box.
---
Performance Goals
Goals allow employees and managers to establish clear expectations and objectives for a performance review period. They create a context and structure for having an ongoing dialogue about work performance and achievements.

Select any of the topics below for instructions:
---
Probationary Review
The probationary period allows an employee time to become proficient in the basic responsibilities of a new position and permits the supervisor to assess the individual's performance. The employee and supervisor are encouraged to communicate frequently during the probationary period.

Select any of the topics below for related information and instructions: