HR Highlights Vol. 4
HR Highlights provides a periodic message for and about the Georgetown community – information, invitations, celebrations, services, and opportunities. We welcome your ideas for inclusion in our highlights and look forward to engaging with you often. 
– Marshall W. Taylor, Interim Vice President for Human Resources
Every year, the Georgetown University Service Awards serve as a reminder of the hard work and dedication required for the University to accomplish its mission. On Wednesday, April 24, President DeGioia hosted the 2019 Georgetown University Service Awards Presentation to recognize the commitment of 83 administrative employees who have worked at the University for 20, 25, 30, 35, 40 and 45 years.
In addition to the President's remarks, Norman Francis, Jr. (COL '20), the newly-elected President of the Georgetown University Student Association (GUSA), offered words of gratitude to our longest serving staff members for their exceptional commitment to Georgetown and its students. The honorees, their guests, and respective supervisors were treated to a celebratory luncheon after the awards ceremony.
Judith R. Rodriguez, honored for 30 years of service to the University, fondly remembers the celebration:
"The Service Awards was a meaningful celebration to me because it made me feel that I am a valued member of the larger and diverse Georgetown University community. It was great to celebrate together with my fellow GU colleagues . . . Thank you so much for making us feel appreciated!"
The Department of Human Resources looks forward to next year's ceremony and the opportunity to celebrate a new group of Service Awards honorees.
On Thursday, April 25th, Georgetown University hosted its inaugural Bring Your Child to Work Day (BYCTWD) to encourage positive experiences for youth and allow them to discover possibilities for their future. With the help of dedicated campus partners, an exciting selection of activities were available for children to explore work-life on the Hilltop.
The half-day program was designed to highlight the exceptional talents and contributions of our employee community, while sharing our passion through youth-focused interactive sessions.  The activity sessions were organized into tracks (e.g., Art, Science, Sports, Technology) to give the children a sampling of the workplace experiences at Georgetown.
Heather Connor, Assistant Director of the MS Analytics Program, participated as a parent chaperone and recognized the event as a welcome addition to the offerings for employees at the University:
"I was so happy to see a BYCTWD option at Georgetown this year. In previous years, I brought [my daughter] to work with me, but it was a struggle for me to come up with fun activities for her. We both really enjoyed the activities, and I was impressed with how well-organized and well-timed the entire day was, from start to finish!"
The Department of Human Resources looks forward to hosting the event next year.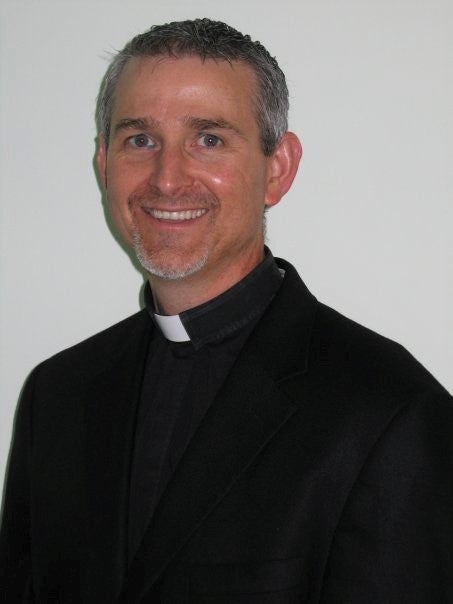 Fr. Jerry Hayes, S.J., is the Director of Ignatian Programs in the Office of Mission and Ministry and is a member of the Georgetown Jesuit Community. A California native, Fr. Hayes entered the Society of Jesus in 1994. After years of service to the Jesuit High School community in various Campus Ministry positions, Father Hayes was missioned to Georgetown University in 2016. He divides his time on campus providing spiritual direction to the Georgetown community and leading retreats that engage participants in the Spiritual Exercises of St. Ignatius of Loyola.  Father Hayes also participates in the twice-monthly New Employee Orientation, introducing new staff to the Jesuit traditions and values of Georgetown and their significance in our daily work lives.
We asked Fr. Hayes a few questions to get to know him a little better.
Which living person do you most admire? 
It would be easy and almost expected of me to name Pope Francis as the person I most admire. However, I have to mention my mother Doris. A number of years ago she was diagnosed with macular degeneration in both eyes. Not to be slowed down, she did everything the doctors could recommend to help her get her eyesight back to as close to 20/20 as possible. In spite of all, she continues with such determination and drive, and I admire her not letting her condition get in the way of staying as fully engaged as possible.
Which talent would you most like to have? 
I love music in all its forms and genres, and I wish I had the talent to play a musical instrument such as the piano. I am in awe of people who can play.
Who are your favorite writers?
I used to read a lot of Stephen King because he's a master of what scares us. Now I'm more attracted to folks like David Sedaris and Augusten Burroughs.
Who are your heroes in real life?
St. Ignatius stands out first and foremost. I think his spirituality and his story saved my life many years ago. Anyone who inspires me to be a better person also gains hero status. Mrs. Suzanne Armes, my 6th-grade teacher, went out of her way to help me be a better student. I still remember her voice and advice to this day.
What is your Motto?
AMDG Ad Majorem Dei Gloriam – For the great glory of God. Every day is a challenge to keep living my life with authenticity and integrity so that God's kingdom may shine.
The Georgetown Staff Appreciation Summer Picnic will take place on Wednesday, May 29, 2019 from 11 a.m. – 2 p.m. on the Leavey Center Esplanade.
Shuttles will be provided from Georgetown Law Center and School of Continuing Studies.

Food, drinks and ice cream will be served.

The University will raffle prizes including Yates memberships, Georgetown basketball tickets, and extra leave days! (Winners will be selected at random and announced after the picnic.)
We hope that you will attend to celebrate, engage with colleagues from across the University and enjoy a delicious meal.
To enhance our onboarding process, the University has initiated a "one-stop" New Employee Orientation (NEO) hosted by the Department of Human Resources and the Office of Faculty and Staff Benefits.
We now deliver an integrated orientation experience to learn about mission, culture, workplace policies and resources, as well as to receive important information about the benefits and the enrollment process. Benefits will continue to offer in-person and online orientation.
Hosted every other Monday, coincident with the New Hire Calendar, NEO now occurs on the first day of an employee's career at Georgetown and provides an informative and interactive experience that sets a strong foundation for many rewarding days (and years!) in service of our academic mission.
 
Please visit Orientation and More (new window) for more ways to make onboarding a premier experience for all.
Copyright © *2019* * Georgetown University Human Resources*, All rights reserved.
Our mailing address is:
2115 Wisconsin Ave, NW
6th Floor,
Washington, D.C 20007
*HR HIGHLIGHTS*