The HR Minute: Interviews
Meet Your HR Team
Charles DeSantis, Associate Vice President of Benefits & Wellness and Chief Benefits Officer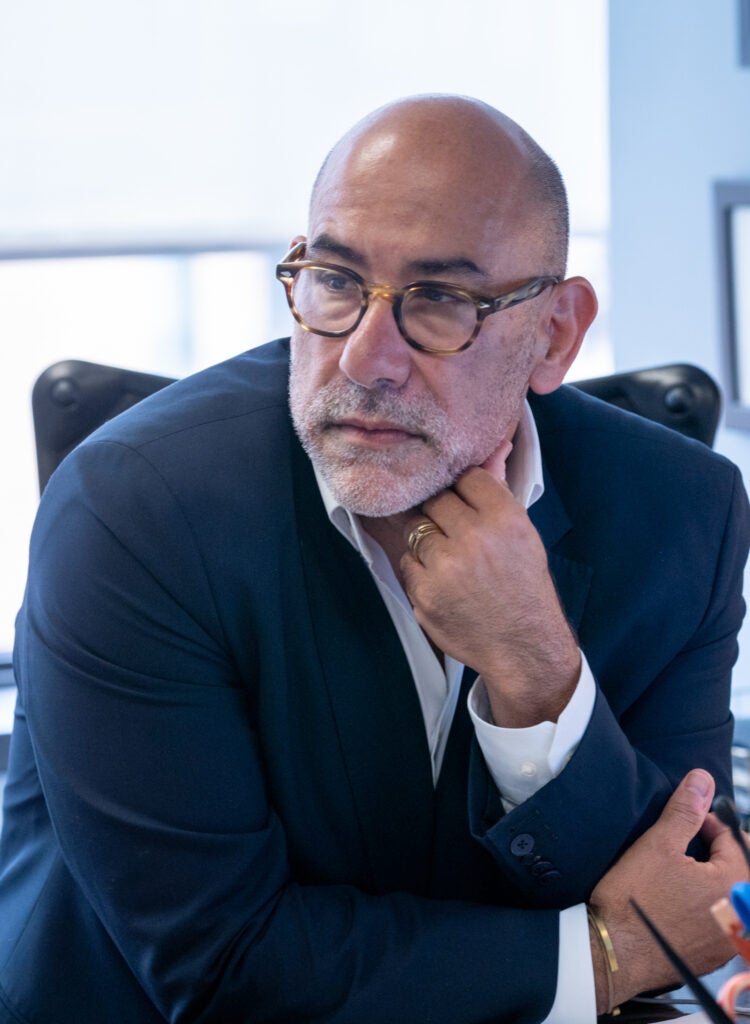 1. What is your job title?

Associate Vice President of Benefits & Wellness and Chief Benefits Officer
2. What exactly do you do in your position?
"In my role, I am responsible for Benefits and Wellness for Students, Faculty and Staff institution-wide. I oversee Hoya Kids, the Faculty and Staff Assistance Program (FSAP), Student Health Insurance, the Office of Faculty and Staff Benefits, GUWellness and have dotted line responsibility for Compensation."

3. How do you serve the Georgetown community?
"The approach I take in serving the community is a person-centered approach. I consider myself a servant leader. My team strives to provide the best possible choice, access and service in the benefits and resources we provide to our community. We provide the care mechanisms that you need to support your physical health and mental well-being at work and at home. We provide tremendous mental health support through our health plans for students, faculty and staff as well as through our new offering of Journey Proactive EAP, along with FSAP and HoyaWell. Although GU is in the business of educating our next leaders, humanitarians, caretakers and doers, we are a community first. We house people, we care for people, we support their dreams and help them be the best they can be. Through our values, Cura Personalis, we care for the whole person. We care deeply for our community and it's a privilege to be part of the framework that puts our values into action. I could not be prouder of the commitment of the people that I work with who make this happen."
4. How long have you been at Georgetown University?
"I arrived at Georgetown on May 22, 2006 and I am currently in my 18th year."
5. Why did you choose to serve at GU?
"When I was offered the opportunity–
to interview at Georgetown, I thought that I would never move across the United States from San Francisco to Washington DC. I was intrigued by GU and had heard such wonderful things about it. I came with an open mind and at the same time I considered my home to be San Francisco. I didn't think I would make the move. The day before my first interview in February 2006, I was standing in front of the John Carroll statue in front of Healy Hall and I must have been gazing about and a young woman asked me if I was ok or if I needed anything. I responded, "No, I am just taking it all in." She touched my shoulder and said to me, "People make Georgetown their home, maybe you will." and she walked away. I knew of the great values held by GU and, being raised catholic, they resonated with me. It is when I started meeting people that I went from, "I am just looking at the landscape of opportunities" to "how do I make this my home?"I fell in love with the people. The values animate Georgetown as well as the wonderful people fulfill its mission day in and out. From my move across the country, to my husband David McDermott and I adopting four kids, the way Georgetown has supported me in my life has been profound."
"I believe we all have a mission in life and I did not know how to articulate it until I came to Georgetown and realized, if not my mission, my why. Why I pop out of bed, why I do what I do and why I continue in this work. There are three reasons that I pop out of Bed: 1) my family and friends, 2) the community where I live and work and (3) those in the greatest need. Sometimes those in the greatest need are my family and friends and the community that I live and work in and sometimes they are not."
6. What's your hometown?
"Although I was a Navy brat and was born in Amarillo, Texas, lived in Williamsburg, Midway Island and Virginia Beach, most of my life from age 13 to 2006 was spent in San Francisco. I consider San Francisco to be my home town."
7. Educational Background
Charles has a unique educational background:
BA in Painting Practice from Saint Mary's College of California;
Post-baccalaureate certificate from the San Francisco Art Institute with a mentorship in Painting by Dewey Crumpler;
Executive Certificate in Leadership from MSB at Georgetown,
Graduate certificate in Employee Benefits Law from the GU Law Center; and
Nonprofit Management Executive Certificate from The McCourt School of Public Policy.
8. What are three fun facts that the Georgetown community may not know about you?

– "In 2007 I participated in a Magis trip to Kenya Sponsored by the Office of Mission and Ministry and the CSJ. From that trip I started an art program in 2008 called Art in Kibera. The program later evolved into the Kibera Art Institute which still exists today, providing art creation opportunities for those ages 4 to 22 in the Kibera slum of Nairobi, Kenya. Every weekend, those in the greatest need are welcome to create art and community as well as enhance their opportunities to have a voice and vision that is all their own."
– "I've published two books. In 2010, I published a book Titled Smart, Beautiful and Important- Teaching art to AIDS-affected orphans in Africa's largest slum. In 2014, I published a book titled Lucas and Lilly go to Kindergarten both published by new academia publishing."
– Charles is heavily involved in giving back to the community through humanitarian efforts from refugees to ballet. "I love art, painting and photography."