The HR Minute: Interviews
Meet Your HR Team
Carla Moussavou, Senior Talent Acquisition Specialist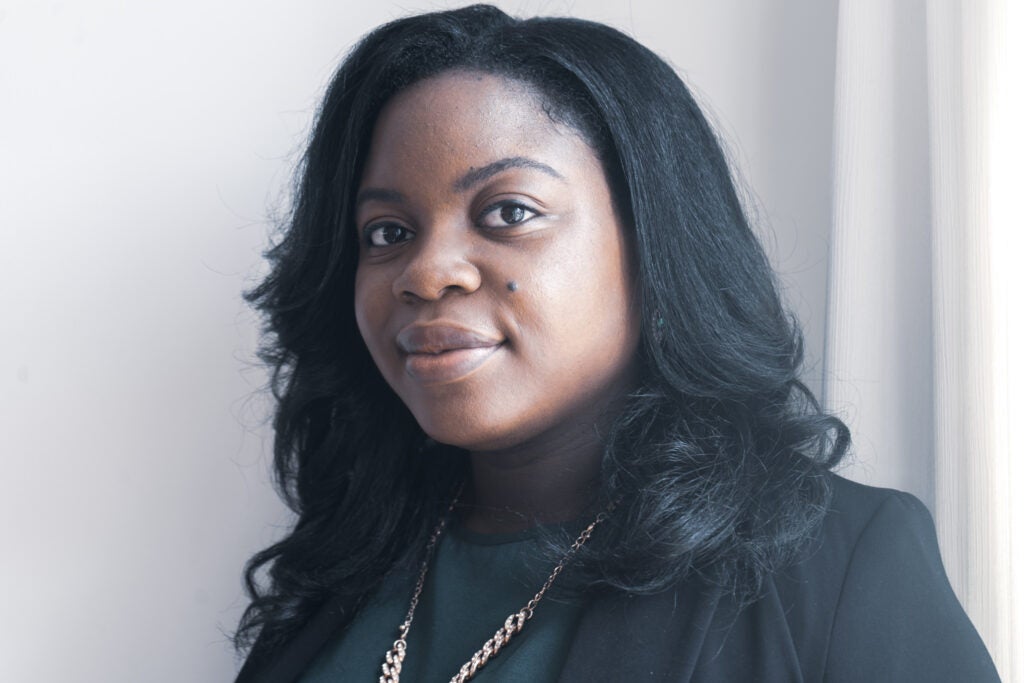 1. What is your job title?

Senior Talent Acquisition Specialist
2. What exactly do you do in your position?
"I provide full cycle staff recruiting support to departments across the university."

Which includes:
contributing to strategic projects and initiatives to advance and improve the talent and recruitment experience at Georgetown,
helping managers increase the likelihood of getting the relevant and ideal candidate for their open job,
creating insightful solutions and resources hiring teams and candidates need to navigate the hiring process successfully,
and, keeping relevant talent engaged and committed, by developing their affinity to Georgetown's culture, values, benefits and perks.
3. How do you serve the Georgetown community?
"Through my work, I am lucky to interact with many internal and external stakeholders. As a result, I am able to identify areas of improvement based on inquiries and feedback I receive, and leverage my experience and resources
to add value to the employee and candidate experience. Under the leadership of Charmagne Wesby, Devon Jinar and Tony Kinslow who encourage service and inspire me to be a steward to the Georgetown community, I have the autonomy to take initiative and propose new ways to further the HR and GU mission."
4. How long have you been at Georgetown University?
Four and a half years
5. Why did you choose to serve at GU?

"I chose GU because this institution provided a unique opportunity to advance my career, my education and my personal development. But I think what is more important to consider is why I continue to choose to serve at GU. Georgetown's core values are so deeply rooted into its fabric, and its culture is so strong that without realizing it you have assimilated into it. And by truly embracing the spirit of GU, I am able to identify a clear thread between how what I do, as a sole individual, advances the small and large goals of the University. Having that clarity for the first time in my career is quite fulfilling."
6. What's your hometown?
"I have a few cities I consider my hometowns. I was born in Douala, Cameroon, lived there between ten and twelve years old and I stay there every time I go to Cameroon. But the first 10 years of my life were spent in Limbe,
a beach town near the south of Cameroon that is very special to me. After moving here at twelve years old, DC became my US hometown. All three towns feel like home."
7. Educational Background

Carla has a B.S. in Business Administration with a concentration in Human Resource Management. She is currently pursuing a Masters in Project Management at GU School of Continuing Studies.

8. What are three fun facts that the Georgetown community may not know about you?

– "I am a native french speaker, it's my first language."

– "I make it my mission to travel out of the country once a quarter. It is my favorite way to recharge, and return more inspired. The pandemic made this impossible, which has in turn made me quite restless. I look forward to resuming this good habit over the next months."

– Even though Carla isn't on the market for a new house, she still likes visiting new construction model homes for fun. "If I pass by a new community when they are open, and I'm not in a rush, I'll stop and take a look."