Lisa McCrohan
Lisa A. McCrohan, MA, LICSW, RYT, is the Wellness Counselor for the Faculty and Staff Assistance Program (FSAP). As a psychotherapist, yoga and mindfulness teacher, writer, and speaker, Lisa offers a cutting-edge approach to wellness that addresses the root causes of suffering. Her specialty is fusing Western psychology and neurobiology with a mind-body medicine approach, yoga therapy, and wisdom from Eastern and Western traditions.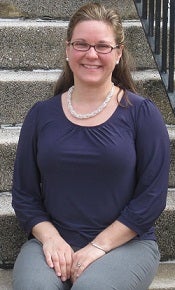 Lisa received her bachelor's degree in Business Administration from University of Mary Washington and two Master's degrees in Social Work and Pastoral Ministry from Boston College.  he is a registered Yoga teacher with the Yoga Alliance. Her advanced studies include: neurobiology; trauma and recovery; mind/body connection; meditation; mindfulness; mindful parenting; spirituality and psychotherapy; mindfulness-based stress reduction; and various styles of yoga and yoga therapy. Fluent in Spanish, Lisa has worked in a variety of international and domestic settings, pastoral counseling centers, human rights organizations, Catholic institutions, nonprofits, wellness centers, and in private practice.   
In her role as the Wellness Counselor, Lisa will be both at FSAP and GU Wellness. Lisa offers psychotherapy to individuals at the Main campus as well as leads wellness workshops, presentations, book clubs, and retreats for the GU community. Lisa frequently presents on mindful living, mindful parenting, stress reduction, healthy relationships, and healing from trauma, depression, and anxiety.  Whether she is providing counseling or leading an educational workshop, Lisa creates a warm and centering space for people to reduce their stress, effectively balance work and home life, cultivate healthy relationships, and live with greater insight, gentleness, and compassion in their daily lives.
Lisa A. McCrohan, MA, LICSW, RYT
Welllness Counselor
lam267@georgetown.edu
(202) 687-3599