2014 AJCU Human Resources Conference
Georgetown University is pleased to host the 22nd Annual Association of Jesuit Colleges and Universities Human Resources Conference this October 14-17 in beautiful Washington, DC.
About Georgetown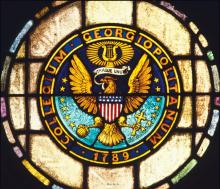 Established in 1789, Georgetown is the nation's oldest Catholic and Jesuit university, and is one of the world's leading academic and research institutions, offering a unique educational experience that prepares the next generation of global citizens to lead and make a difference in the world. We are a vibrant community of exceptional students, faculty, alumni and professionals dedicated to real-world applications of our research, scholarship, faith and service. Learn more about our history and mission.
Campus Map
Directions to campus
Transportation & Parking
Self-Guided Campus Tour
Conference Details
Founded in 1992, the AJCU Human Resources Conference is comprised of human resources professionals at the 28 Jesuit colleges and universities in the US. They meet annually at an AJCU institution to exchange leading practices in human resources, review best strategies for ensuring mission-directed human resource organizations, and share information that can inform the human resource work in support of their institutions' Jesuit identity. Conference members stay in weekly contact with each other through an active AJCU listserv. Learn more about the AJCU at www.ajcunet.edu.
Accommodations
Georgetown University Hotel & Conference Center
Nestled among the classic buildings of the Georgetown University campus, guests of the Hotel and Conference Center will enjoy the elegance of a hotel with all the comforts of home. With campus views and easy access to conference events and the Faculty Club Restaurant, this hotel is a favorite of business and pleasure travelers alike.
The Graham boasts luxurious accomodations and magnificent rooftop views of Washington, DC. Enjoy the peaceful Potomac Riverfront and short walk to conference events on campus through the beautiful and historic Gerorgetown neighborhood. When booking a room, be sure to mention the confernce and use the discount code GTUNI.