Georgetown University – Don Bosco Cristo Rey
The Department of Human Resources (GUHR) has partnered with Don Bosco Cristo Rey (DBCR), a High School of the Archdiocese of Washington. We are proud to have joined the school in its first year as a Corporate Work Study Sponsor with five students working with five departments on Georgetown's main and medical campuses. In the academic year 2008-2009, 19 students worked in 12 departments and the relationship continues.
Opportunities exist for Georgetown departments to get involved by having a student work in their department.  GUHR envisions a growth in number of DBCR students working for GU departments and invites them to partake in this Corporate Work-Study Program. Joined by hard-working and ambitious students, the DBCR team provides their corporate clients with well-trained students who, with supervision, can handle support staff positions. Paying less for four students, than to a full-time staff, departments at GU can satisfactorily fill an administrative position. And above all it is not "just about getting the job done," it is also the benefit of participating in an innovative idea of promoting education. As an academic institution, it gives us the opportunity to create an intellectually stimulating environment for both, students working in our offices and the supervisors working with them. Interested department may contact Eileen Fenrich at 7-1758 or fenriche@georgetown.edu to sponsor a Cristo Rey Student.
The school employs a brilliant earn and learn concept in which children from low income families, regardless of their faith, race, ethnicity and nationality are given the opportunity to afford private school education, which enhances their ability to pursue higher education in any institution in the country. Against all odds, how this model of education succeeded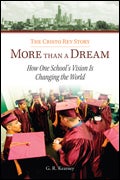 is better explained in their book "More Than a Dream: Cristo Rey Story: How One School's Vision is Changing the World."
With more students from the Cristo Rey Network becoming interested in studying at GeorgetownUniversity, it is evermore important to forge a strong and meaningful relationship with the local CristoReySchool. 
The association between the two entities has been well recognized. In 2007, Fr. John Foley, SJ, Cristo Rey Network's founders was awarded an Honorary degree from Georgetown University  and in 2009 Dr. John J. DeGioia, President of Georgetown University, received Don Bosco Cristo Rey High School's first-ever Cristo Rey Partnership Award.
Individual employees can get involved by volunteering at the school http://hr.georgetown.edu/cristoreyvolunteering.html