Employee Recognition
For over 30 years, the University has recognized employees for their years of service. Employees are recognized on five year anniversaries. The Service Awards Luncheon honors those individuals with 20 or more years of service to the University.
At the 2013 luncheon, President DeGioia said, It's a pleasure to be here today, with all of you, to celebrate the 64 women and men, who over the past 20, 25, 30, 35, and 40 years have shown extraordinary dedication and commitment to our shared mission here at Georgetown.
By sharing with us your time and your talents, your knowledge and your skills over the past decades, you have helped to support and advance the highest levels of excellence across our University as well as among our students, our faculty and your fellow staff members.
Your work, your contributions, and your presence here are essential to the successful operation of our University, and to the vibrancy, the spirit, and the strength of our community. It's truly a privilege to count you all as members of our Georgetown family.
This year, we had a Guest Speaker, John Thompson Jr, Coach Emeritus and over 190 employees, supervisors and guests attended.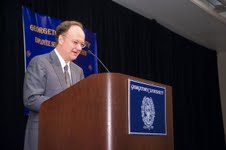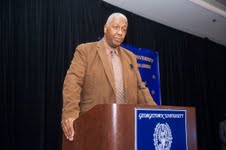 Jack DeGioa, President John Thompson, Coach Emeritus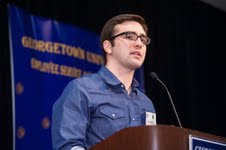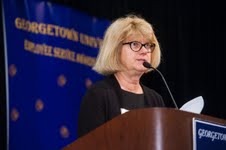 Nate Tisa, GUSA President Mary Anne Mahin, VP and CHRO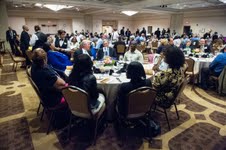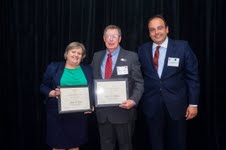 Service Awards Luncheon 2013 40 Year Award Recipients
(left to right), Judith House, Brian McGuire pictured with Christopher Augostini, Sr. VP and COO
See video celebrating our 40 year awardees: Click Here